This is the first installation of a new craigwerks series called "Art in the Life" which features openly queer Black artists in the South. A new generation of Black queer artists is opening ground and spilling seed to create a different landscape in throughout their ancestors' first terminal in this country. Art in the Life celebrates the fruits they bear.
Yolo in the key of green
an Art in the Life profile by Craig Washington
August 13, 2008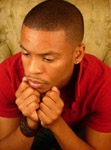 A new generation of twenty something Black queer artists has begun infusing Atlanta's cultural scene with much needed juice and color. They are forcing us to rethink our assumptions about the messages and the messengers we expect to encounter at the West End open mic or the Decatur queer literary festival. Performance poet Yolo Akili (nee Michael Robinson) stands among the vanguard of this burgeoning movement that is flourishing where it is needed the most, in the South. He has been firing up slams and Gay Pride events across the southeast with a charismatic blend of sass, polish, quicksilver rhythm.
At 26, he possesses a powerful and distinctive voice hewn from womanist, West African, Buddhist, radical fairy, as well as Black queer roots. Yolo's recently published Poems in the Key of Green takes you by the hand into a people's revolutionary garden where Yoruba goddesses and brown fairy boys skip doubledutch with Wonder Woman, under the watchful eyes of Alice Walker and Audre Lorde. While you may find tofu in his collard greens, Yolo is no Atlanta transplant poseur. The Ft. Lauderdale native who attended the same Augusta, GA high school as "Tongues Untied" filmmaker Marlon Riggs, is the real thing, whose eclectic truth telling signals a new breed of Southern gay writers whose time has come.
Like many openly gay Black poets, Yolo is all about social justice, indicting the usual suspects, i.e., racism, homophobia, sexism. He also realizes that even activists needs love and indigo skies. Experiences with yoga, Yoruba religion, and astrology probably nurtured the sensuality of his pen. Several lines tickle the senses with luscious recollections like "purple fairies" that fly from "peach fingertips". The opening piece is a ripe paean to the planet Venus which conjures heavenly bodies gushing lava in the throes of lust. Concretely is a familiar pang longing for an intimacy that eludes as much as it fulfills.
This exciting debut includes the artist's signature performance piece, Fagets are not responsible. It is in many ways a canny read that flashes a 'talk to the hand' opposition to gay scapegoating from heterosexual Black men , an index finger pointing out the real threats, and an open palm inviting fraternity. "We are not responsible for your pain or your fears or the way the system fucks you. We are not responsible for Uncle Johnny that evening when he touched you", Fagets declares. Then in resolution offers, "we are each responsible for your healing".
Yolo's rejects simplistic victim posture. His work often holds himself and his readers, especially Black men, at least partly responsible for the conditions he exposes. We are not the kind of boys we want I suspect will eventually become enshrined in that indispensible canon which chronicles the often excluded experiences and perspectives of Black gay men. It submits ample evidence of the cultivated disdain we hold for the feminine within ourselves and each other. The accuracy stings. "Boys like us walk by and we shake our heads in disgust. Look at that queen. That woman. That cunt!"
Yolo's work draws from Black feminist principles which call on Black men of any sexual orientation to root out our own misogyny and sexist attitudes. The Neighborhood Association parodies citation jargon to cite the complicit silence of communities when women are battered by men. To My Teachers is a stirring dedication to the artists' foremothers spanning from Harriet Tubman and Zora Neale Hurston to Lauryn Hill. While Toni Morrison and James Baldwin are among his varied influences, Yolo claims Walker as his primary muse. "I would not be who I am, were it not for Alice Walker. She affirms the southern, witchy, pagan parts of me. She opened up the possibility that I could be a poet."
When asked what inspired him to publish "poems in the key of green", Yolo spoke without hesitation. "Poetry is intended to provoke or heal. I wanted to widen perceptions of Black gay men, Black people in general. People will try to imprison you into what they want you to be if they don't have a concept for what you are."
Want some more Yolo? Go to www.yolothepoet.com and get his self-titled CD "Yolo". Also, check for him at the following events:
Java Monkey Sunday, August 24th
ITLA Black Gay Pride
Erotic SpeakFIRE! @ the W Hotel Friday, August 29th 12 midnight – 2am
The Rockstar Poet Tour December 2008