FAGGOT: A New Coming of Age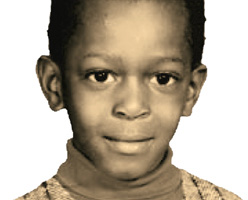 Lynwoodt Jenkins, shown here as a boy, plays all the characters in one black gay man's life in his own play, 'Faggot.' (Photo courtesy Whole World Theatre).
For those used to the beauty shop queen caricature recycled over decades of Black film and theater, FAGGOT may be a jarring departure from burlesque to realness. It is the coming of age story of a Black boy who is gay. It is a leap from standard Black fare because the boy is presented as human rather than a parody for comic relief or cautionary moral. At 12, Michael discovers his sexuality but the new joy of this awakening is soon suppressed by shame. Torn between his longings and the arresting fear of losing his mother's love, Michael endures an internal war that rents his soul which he believes is "sin-sick". Michael's odyssey is rigged with daunting pitfalls from rape and addiction to homelessness and prostitution. Channeling a host of characters that evoke demons and angels, playwright/actor Lynwoodt Jenkins deftly carries audiences along Michael's stony path toward self acceptance and salvation. Rhythm and tone infuse Lynwoodt's delivery with a percolating emotional intensity. Stirring voiceovers from the aptly named Loretta Divine add an extra treat to this one-man, multi-character performance. A thoroughly compelling story, FAGGOT, though hard for many to accept, must be heard as it refuses to remain untold.
Lynwoodt received critical acclaim at the National Black Theater Festival debut for his 2004 presentation of FAGGOT. His plays Blackberries and At the Crossroads both premiered at the 14th Street Playhouse. In 2007, he was designated as Fulton County Art Council's Literary Artist with residency in South Africa. He is now working on a novel of literary fiction and a manuscript submission for a possible collaboration with Chicago Shakespeare Theatre. In addition to writing and directing, Lynwoodt is also an accomplished actor, Meisner Instructor, and voiceover talent.
I had the privilege and pleasure of discussing this revelatory work with Lynwoodt. We discussed his experiences in writing and acting in the show, the responses it has drawn, and its significance particularly for Black audiences.
Why did you decide to name this play "FAGGOT"?
I wanted to jar people. I also wanted people to know what it feels like when someone calls us that. 'Okay, you're offended. Now we can talk. Tell me why you are offended'. For straight people, the title either disgusts them, you know, they are offended or, they are curious about it. The controversy generates the audience. I have even had some gay men tell me 'I love the play but I got stuck on that word'.
Could you share some of the responses you have gotten from those who've seen it?
One woman came up to me afterward and said, 'now I know what I did to my grandbaby'. A gay man told me 'I wish my lover could have lived to see this because this is my story.' This reminded me of why I wrote this in the first place.
What was it like to have written this and then to actually perform it?
The writing came relatively easy. I wrote it so that it was easy to speak and made sure that it had its own beat, pulse, its own melody. The references to biblical characters, angels and devils are purposeful. Now originally I had no intentions of performing it. Two actors declined at the last minute, they felt overwhelmed by the script. It's just me up there so I can't be half steppin'. The benefit is that it keeps me sharp. The Whole World Theatre is a small venue so it's intimate. I like that. I want to draw you in as an artist. I want you to live the story through me.
When did you start writing and acting?
I didn't discover writing, writing discovered me. Up until I was eleven I was an only child with a lot of time on my hands, so I was bored. I spent a lot of my time writing. I started writing poetry and the poetry turned into short stories. My first acting gig was as the first Black Santa Claus in his elementary school's Christmas play. I was in every other high school and college play and it went on from there.

Why do you think it is important specifically for Black audiences to see "FAGGOT"?
I want Black folks to know that this is just as common as checking the dreads and greasing the scalp. This is not a foreign or a white thing. It is not an act of betrayal. I want to humanize our sexuality. When most heterosexuals look at us, the first them that comes to their mind is sex. We are more than our genitals and our desires. In the Black church we are tolerated. They utilize our talents in the tribe but do not allow us to pick up the spear. We bring gifts only acknowledged when beneficial to heterosexuals.
What message do you think it carries for young Black gay men?
This will let them know they are not alone. Hopefully this will remind them that life is not just about partying. Go to the ball or the club, but also check out a poetry reading, read James Baldwin's Giovanni's Room, volunteer in your community. Honor your history. That's why I included several references to the works of Black writers throughout the play.
So what was it like to debut your work at the National Black Theater Festival?
It was a major honor. I did not know what to expect. I thought 'straight Black folks are coming to this so let me put on my armor'. And it was the opposite. I had to revaluate my assumptions. I was hobnobbing with the likes of Charles Dutton, Margaret Avery, and Andre DeShields. Some friends and I came to the host hotel lobby to have drinks and all of sudden people start applauding. I looked around to see what star had just walked in and they were applauding for me. For all these people who I have watched in the business to compliment me on this little gay play I wrote, was remarkable.
While this play is not autobiographical, how does the character Michael relate to your own story?
I remember how I felt when I became conscious in listening to adults and kids who were listening to adults that my feelings were associated with something very negative. That's when the shame and the prayers came in. I became celibate, I didn't even masturbate. I said 'Okay God if this defiles my spirit then take it away'. When I came out of that and realized that I am fine just as I am, it was the most significant moment of my life. I think it is a slap in God's face to have Black gays believe they are not worthy of being loved as they are.
FAGGOT written and performed by Lynwoodt B. Jenkins
Whole World Theatre
404.817.PLAY
Every Thursday, Friday and Saturday May 22 – June 14, 2008
Thursdays: $12.00 | Fridays and Saturdays: $17.00
All Shows at 8PM | purchase tickets